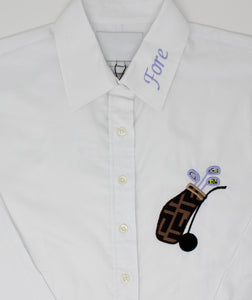 Upgraded Fore Luxury, this boyfriend Oxford has a golf bag appliqué comprised of vintage and contemporary upcycled Fendi fabrics. 100% Cotton powered by The Shirt No Gape® button technology, these garments have hidden buttons at the chest providing the perfect fit for every body!
As with all of our Limited Edition 1 of 1 products, every shirt is truly unique; swatches may vary from those featured here.
Care Instructions: dry clean
If your preferred color/size combo is showing as sold out, please email us at info@frankiesrunway.com to see if we can fulfill your request.
Frankie's Runway is not affiliated with the brands whose fabric we repurpose onto our products. All luxury fabrics are authentic.